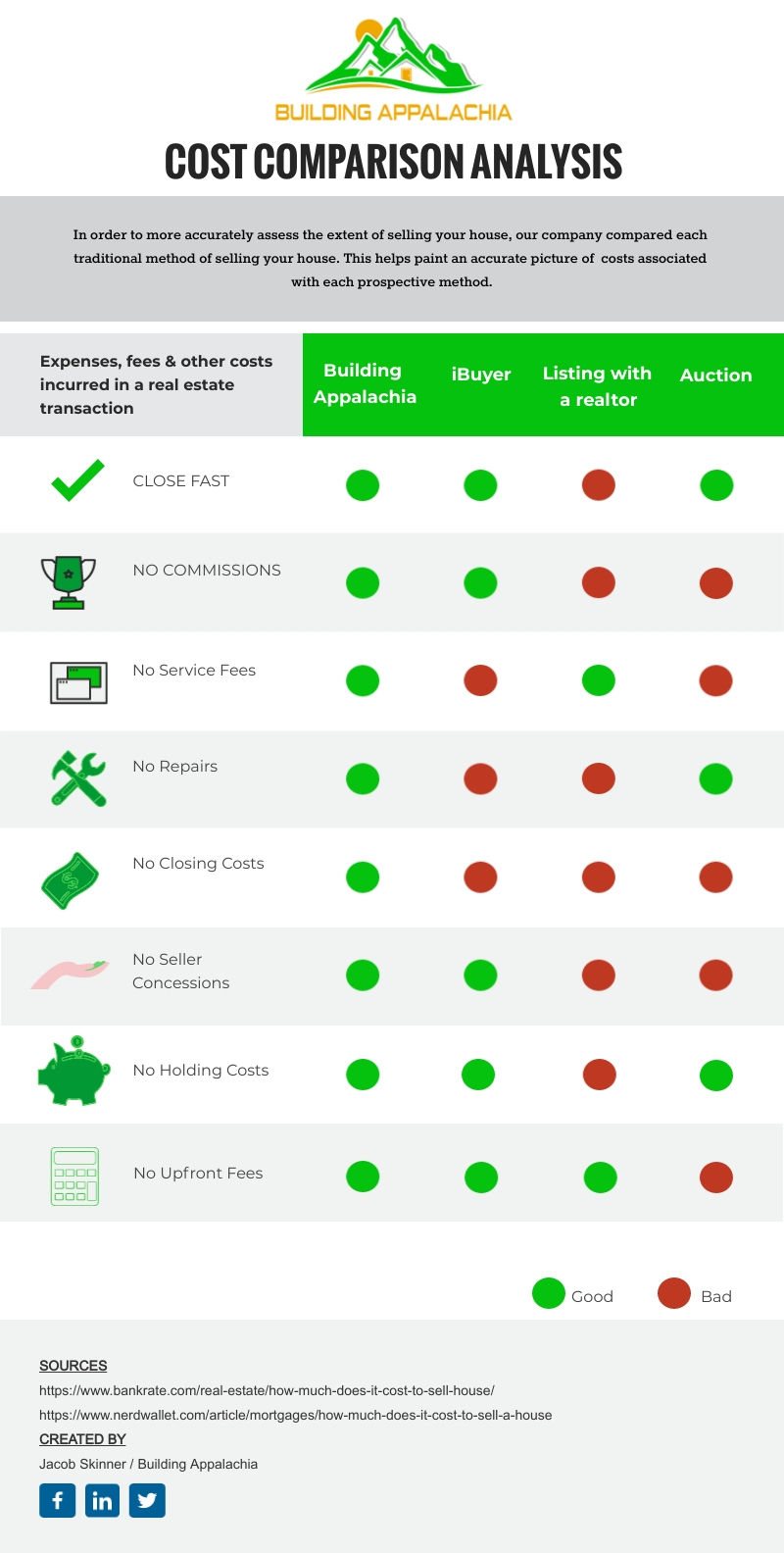 Going through the home-selling process can be tedious, exhausting, and confusing when trying to get the best offer for your particular situation.
But no matter the reason you need to sell your home, Building Appalachia can help, and they believe they provide the most effortless transition from beginning to end, which includes getting money in your pocket fast.
There are three specific reasons you should sell your property to Building Appalachia.
1: Competitive Cash Offer
Maximizing the amount of money in your pocket is arguably the most important aspect of the home-selling process, and Building Appalachia promises its cash offer will be competitive to others in the area.
They can make the decision fast, too. After the initial home inspection, an offer is soon to follow within 24 hours. It's as easy as that! A great example is when Building Appalachia bought 1012 Greenland Circle in South Charleston from Chris Kirkhart back in 2017. It was one of the first homes they ever purchase and Chris wanted to get the most out of his mother's house as he could. The home had a structural issue, but the guys were still able to give him a better cash offer than a competing realtor was able to list the property for. Chris said, "My family recently sold a house that belonged to my parents to Building Appalachia. Both of my parents have passed and my brother and I were left with a couple of decisions to make. The house appeared to be in good shape, but there were some issues that we weren't aware of. With him living out of state and unable to help, we decided to sell the house "as is". After receiving a couple offers, we agreed to terms with Building Appalachia. Throughout this process, I always felt that Jordan and Jacob were very honest and open. With this being our family home for many years, they were also very respectful. I kept in contact with them throughout the renovation period and was even offered to tour the house. I'm very pleased with the work they've done and I'm sure my parents would be too. I'm sure that the next family to live in the house will be very happy. I hope they'll make as many great memories as we did."
2: No Out of Pocket Fees
Building Appalachia wants to be transparent and trustworthy in the home-selling process, and that means no out-of-pocket or hidden fees you didn't see coming. So that includes no closing costs immediately saving you $1000-$2500, no fees for inquiring about your property, and absolutely no realtor commissions which can often be up to 7% of the selling price. Mary Hill sold her house at 1317 Virginia St in Dunbar to Building Appalachia in 2021 and they were able to save her thousands in closing costs and commissions putting more money in her pocket. Mary dealt with Jacob and had this to say: "Jacob is a people person and had convinced me, before I even met him, that his company affiliation with Building Appalachia would have my best interests at heart. And I was right. Everything went good and I couldn't be any more pleased. Happy to see the hometown boys doing good things for WV."
The guys still list their homes with Realtors once they are finished remodeling, but at this point they're paying the realtor commission, which saves you $1000s of dollars. After renovating 1012 Greenland Circle, Building Appalachia listed it with Ann Osborne of Family First Reality and she had nothing but good to say "We have had the pleasure of working with Building Appalachia for a couple months now. Today we were able to close on one of their homes. It is apparent they are dedicated to delivering a quality product, and will work diligently to make sure the buyer is happy. Their goal is to make the transaction a win win. I would highly recommend purchasing one of their homes."
3: Close When You Need
Everyone's situation is different. Some people need to close as fast as possible, while others aren't in the same rush. Working with Building Appalachia means your timeline is important, and they can close ASAP, often within 2 weeks to save you from a foreclosure situation, or whenever you're ready to make the decision.
Making sure you're comfortable is a priority.
And we get it, there are so many things to keep in mind during the home-selling process, but Building Appalachia wants to walk you through the entire process as smoothly as possible.
And it doesn't matter what your situation is, Building Appalachia takes pride in helping everyone, including distressed homeowners, find solutions to their real estate problems.
They purchased 123 Woodbridge Drive in Charleston from Dan and Lori Phipps who had this to say: "In 2014 we purchased a house we intended to remodel but soon realized we were in over our heads. After attempting to sell on our own for over a year, we contacted several different real estate investment companies and Building Appalachia was the obvious choice. Not only did they give us the highest offer, Jordan and Jacob were so helpful with navigating the entire process. They completed a gorgeous renovation and made the house ready for new owners, all while allowing us to move into a larger home that better suited our family's needs. I would definitely recommend their services to anyone!"
Again, Building Appalachia will pay you cash, take care of the closing costs and close on your timeline. Selling your home to them directly means you can avoid realtor fees and commissions altogether, and their team will take the guesswork out and make the process simple for a worry-free transaction.
There are very few real estate companies in the entire state of West Virginia that work with the customers that intimately.
So the next time you're looking to sell your home or property, make sure to check out Building Appalachia.